This article will discuss RFID blocking in detail plus highlight the top 7 RFID Blocking Wallets available in the market currently.
Failure to have an RFID Blocking Wallet poses a risk to your credit card information as they can steal this information by simply standing next to you. The good news is you can eliminate this risk through the information provided in this article.
Best RFID Blocking Wallets in Short
When searching for the perfect RFID Blocking wallet you will discover very many options. They will vary according to their material, size, design, among other factors.
With modern technology comes modern designs and we have outlined the top 7 RFID Blocking Wallets that you should spend your money on.
This RFID blocking wallet is made of leather material and is sleek with a sophisticated aesthetic for those who would like to stand out. It has hidden cash and coin pockets making it perfect for the organization of cards, cash, and coins in a tidy manner. It's also slightly thicker than your average minimalist wallet and despite being made of leather, the card slots don't stretch out.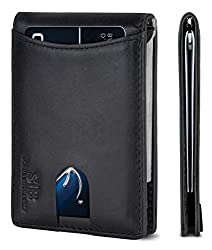 The Serman Brands Slim RFID blocking wallet is also made of leather material and its huge size can store up to 10 cards and 20 banknotes of any currency. It also has a thin design which makes it easy to fit into whichever pocket which is not as common in standard minimalist wallets. This makes it perfect for protection against data theft by RFID scanners.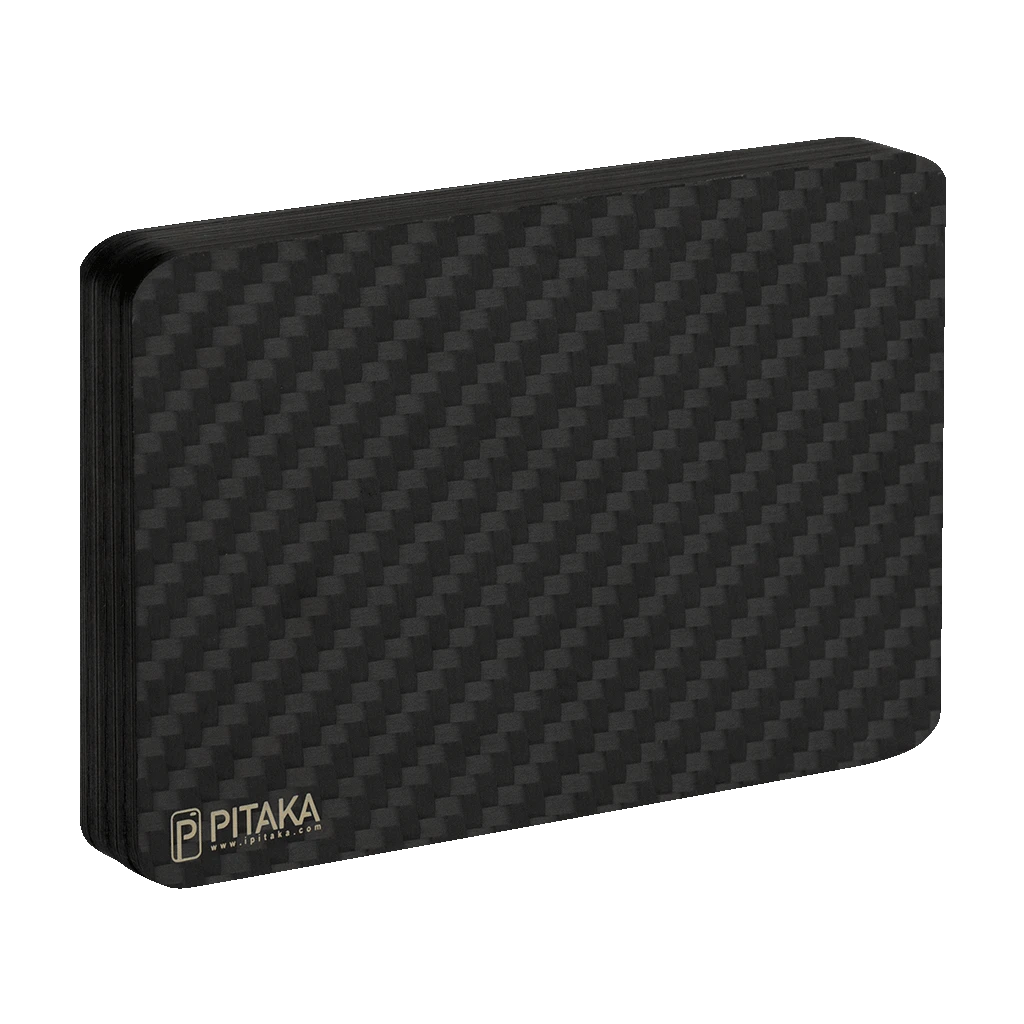 The Pitaka MagEZ RFID blocking wallet is a minimalist wallet that is made of carbon fiber. It is super slim and has card slots for 6 cards. A unique feature of this piece is that it is modular, meaning it has layers and each layer has a function and they all connect using magnets. When accessing your credit cards you just slide one layer horizontally. This makes it a perfect alternative to a traditional wallet.
The Dango Dapper RFID blocking wallet is made from 6061 aerospace-grade CNC'd aluminum and is designed to hold up to 12 cards. Both credit and business cards. It gets to just over 0.3 inches thick once 6 cards are slotted inside the wallet. This also comes with three color options so you are guaranteed to find the perfect option that matches your style and taste.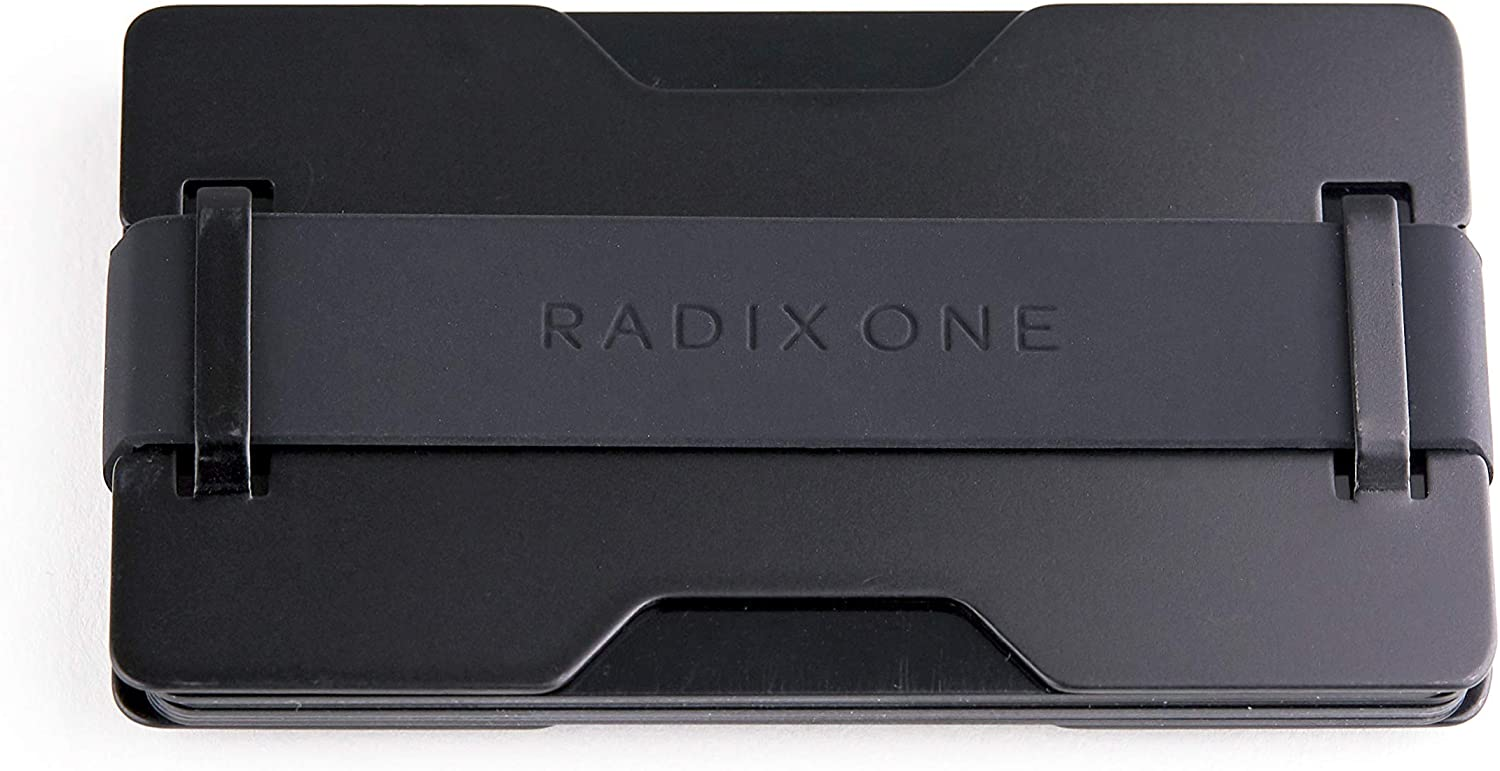 The Radix One Black Steel RFID blocking wallet is very thin as compared to most existing RFID wallets in the market. Its card slots comfortably hold 4-10 cards and the outer cards can be removed from the wallet very easily. The two plates are made of stainless steel making them resistant to corroding/rusting. Another feature is it will block frequencies operating at 13.56MHz.
The Coolwin Trayvax Armored Summit RFID blocking wallet comprises of all-metal construction and has a razor-thin design which makes it simple to access your cards. Its steel plates are finished with a Melonite hardening procedure that makes them very scratch resistant and therefore durable. It is perfect for minimalists who like something simple that does the job.
The Zoppen Multi-Purpose RFID Blocking Travel Passport is the perfect organized traveling as it protects your information as well as organizing your identification items while on the move. It contains 3 credit card slots, 1 passport pocket, 1 id slot, 1 boarding pass compartment, 1 sim card pouch, 1 coupon ticket slot, 1 cellphone pouch, 1 money & coins zippered pocket, 1 key holder, and 1 pen holder. As its name suggests, this is perfect for the occasional traveler.
What is RFID?
What is RFID? RFID stands for Radio Frequency Identification and it an electromagnetic field to discover and track objects embedded with the system using tags that hold digital information. This is considered an upgrade from the conventional supermarket barcodes. This next-level technology has the ability to access sensitive product information from a distance and track its usage.
What is an RFID Blocking Wallet?
RFID wallets comprise a layer or wrapping made from carbon fiber or metal. This special layer in these RFID blocking wallets blocks the electromagnetic fields from the reach of any financial cards which have RFID chips embedded in them.
This carbon fiber or metal used for shielding is a conductive material. The measurement of conductivity determines how easy the radio waves communicate and transfer through a material.
This protective layer takes the incoming electromagnetic waves from a malicious person's RFID scanner and spreads it around the wallet, but denies any entry through the shield.
EMV vs RFID s NFC
EMV stands for Europay, MasterCard, and Visa and is commonly referred to as a credit card with a smart chip. The smart chip is used to store data that is required to process transactions. Every EMV card is embedded with an operating computer system, offering sophisticated authentication as compared to traditional magnetic-stripe cards. The chip is tamper-proof resulting thus making it almost impossible to clone the card.
RFID is the predecessor to NFC and uses radio waves embedded in the card for the transmission of the credit card information. When using a card with RFID during a purchase at a store, you don't need to swipe your card but instead just hold the card a few inches from the merchant's scanner, and payment is made automatically. This is different from EMV as EMV requires contact for making payments.
NFC stands for Near Field Communication and is a type of RFID that needs someone to be within inches of the card reader during any transactions. This helps keep away fraudsters from skimming your information easily as opposed to RFID which can process payments from a long-range. The NFC chip is embedded in mobile phones and can be used for contactless chip cards.
Types of Wallets
Before buying a new RFID wallet, you need to consider these important product factors:
Material – faux leather, genuine leather, aluminum, carbon fiber, canvas
Style – cardholder, bifold, trifold, passport, phone
Storage – card slots, card pockets
Accessories – locking clasps, money clips, ID windows, coin pockets, slide pockets
Other Ways to Protect Your Card Information
Here are other ways in which you can protect your card information against identity theft:
Use known, trusted Sites when shopping.
Never share a photo of your credit card on any social media platform.
Report lost cards and suspected fraud right away to your bank.
Create unique passwords.
Reviewing your recent account activity often.
Frequently Asked Questions
Do RFID Wallets Really Work?
Yes. RFID wallets block transmissions from RFID devices which can steal your money, your account information, plus any other personal information.
Are All RFID Wallets the Same?
No. RFID wallets vary in material, style, storage, and accessories.
Do RFID wallets ruin credit cards?
No. RFID blocking wallets only offer a protective layer for your credit cards to prevent skimmers from stealing your information.
Is there any RFID wallet with a phone charger?
es. Some RFID wallets come embedded with RFID blocking and a power bank wallet embedded.
So How Do I Chose the Best RFID Wallet?
RFID wallets are a must-have accessory in our current modern world. Skimmers are always looking for loopholes to steal credit information from unaware targets. The only way to protect yourself and not become a target is to safeguard your credit card information using one of the RFID wallets outlined in this article.